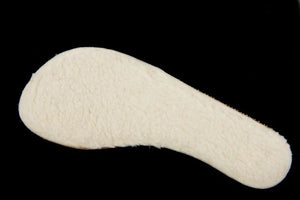 Mjúk og heit skógvainnlegg
Lýsing á enskum:
Want to feel like you're tucking your feet into a comfy duvet or digging your toes into a fluffy carpet? What about walking on a cloud? That's the feeling you'll experience with our barefoot winter insoles. These soft fur liners mold to your feet while keeping them warm and wick away moisture thanks to a special membrane. 
Our insoles are ideal for lovers of barefoot walking. They warm you up while providing you with the freedom of natural movement. 
Enjoy winter with toasty warm feet. 
Fit all standard models of Ahinsa shoes (not for extra narrow or wide)

Keep your feet warm even in the coldest temperatures

Wick away moisture and sweat

Ideal for healthy barefoot walking 

Vegan
Lukáš Klimpera, physiotherapist
"Ahinsa barefoot shoes aren't just healthy for your feet, they're good for your whole body. The results of measurements taken at Masaryk University showed that a foot in an Ahinsa shoe leaves almost the same footprint as a completely bare foot."
Cruelty-free fur
What's the best way to warm up? Fur? Well almost. Even better is ethical fur that didn't cause the death of any animals. 
Our cruelty-free, sustainable fur is sourced from Italy. Thanks to its specially designed membrane, it wicks away sweat from your feet while keeping external moisture out. 
You'll stay toasty warm even in the frosts of Finland. That's right, even there, our customers that wear Ahinsa shoes have nothing but praise for our fur. 
You deserve to stay warm and dry with a clear conscience. Put on a pair of Ahinsa shoes. 
Stay warm even in freezing temperatures

Wicks away moisture from your feet 

Ecological and ethical